SANDRA J. SHAW COMMUNITY HEALTH PARK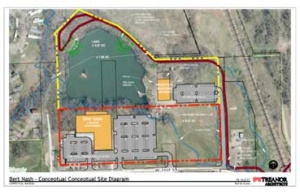 Enjoy a walk on a trail through one of Lawrence's most unique locations. This site is located northwest of Second and Indiana streets and is within easy walking distance of Lawrence Memorial Hospital, Bert Nash, the Lawrence/Douglas County Health Department and the City of Lawrence's Burcham Park. More details here
This park was made possible by a collaboration between Outside for a Better Inside, Bert Nash and the City of Lawrence who received a grant from the Sunflower Foundation.
Who Was Sandra Shaw?

Sandra Shaw dedicated her life to assist others in understanding their behav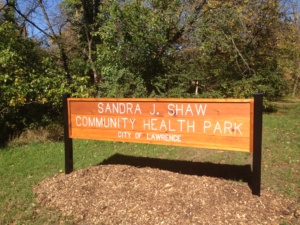 iors and how environs can assist in creating a healthy lifestyle. As CEO of the Bert Nash Center, Shaw created, developed and strived to provide the best behavioral health care for the residents of Douglas County. Her passion and dedication guided her efforts and those of her staff for three decades.
Dr. Shaw knew how important connecting with nature is for individuals and their mental health and well-being. A natural park and walking trail would be a wonderful lasting tribute to Dr. Shaw and her efforts.