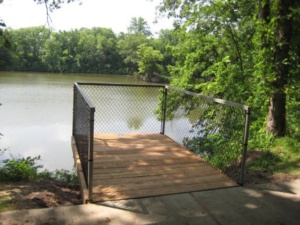 In November 2007, John McGrew read an article in USA Weekend entitle, "Raising Healthier Kids".  The article promoted Richard Louv's book, "Last Child in the Woods: Saving our Children from Nature Deficit Disorder".  It validated the concern that many of our children are living lives of virtual reality rather than experiencing the real world.
John gave over 100 copies of this book to stakeholders in the Lawrence community.  Many of those who read the book chose to be advocates for our mission.
Thank to Greg Thomas, Chairman of the Design Department at KU and one of our advocates and designing our logo.
We elected our Board of Directors and applied for and received our 501(c)3 status.  With thousands of hours of volunteer effort and contributions from individuals and local service organizations, we have begun to accomplish our goal.
Prior to this – On April 13, 2009, Governor Kathleen Sebelius issued an Executive Order creating the Kansas Coalition for Children in Nature (KCCN). The KCCN was created to foster Kansas youth's appreciation, understanding and involvement with the outdoors.  "Kansas is blessed with an abundance of natural beauty and this coalition will work to make sure Kansas children experience all that our state has to offer," Sebelius said. "Environmental education is the first step toward helping our children learn to protect and preserve our planet."
The Kansas Coalition for Children in Nature (KCCN) will promote outdoor learning experiences and environmental education for the young people of Kansas and provide ongoing support for these endeavors.