Outside for a Better Inside is a non-profit organization that believes children who engage with nature develop greater creativity and appreciation for the outdoors. What great resources we have in our Community, our parks, trails and lake. We encourage outdoor activities that promote good mental and physical health. Outside for a Better Inside offers several events throughout the year for children of all ages. We hope you will bring the whole family and join us.
Watch and learn about how our local Monarch Watch, founded by Chip Taylor, is making a difference and how you and your kids can participate.
Outside for a Better Inside would like to thank Lawrence Luncheon Optimists for their generous donation to our program. With their support we will be able to increase our efforts to get children outside and reconnected with nature. Outside for a Better Inside believe children who play creatively outside will be happier, healthier, and smarter citizens. We provide outdoor events throughout the year because we feel Nature is good for the entire family.
Let's all get Outside for a Better Inside!
If you feel that "No Child Should be Left Inside" you have found the right place.
Many thanks to Jim Jewell our videographer.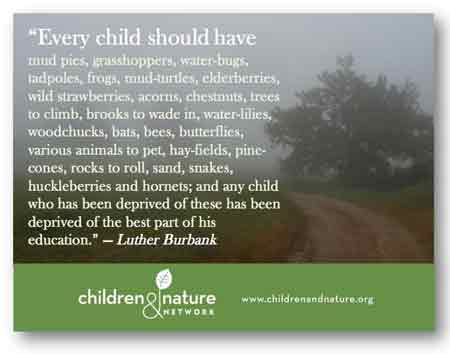 "Teaching children about the natural world should be treated as one of the most important events in their lives".
                                      Thomas Berry ( Last Child in the Woods by Richard Louv)
We hope the resources in this website help you find fun things to do with your children to get outside and enjoy nature. Plant your own butterfly garden, camp out in your back yard, make up scavenger hunts, go for a hike or bike ride and many more!
 "Kids who play in natural areas those with bushes and trees- have been shown to engage in more creative and cooperative play"
                                         Richard Louv   (USA Weekend , November 16-18 2007)
 "If you can't get to a pond or a lake, then find a puddle" 
                                       Dr. Tedd Mitchell  (USA Weekend, November 16-18 2007)